Welcome to Missionary Monday! This is something new that I am doing to give a whirl in hopes of encouraging people in their missionary endeavors, praying for said people in such endeavors, and to share stories that bring glory to God because of what He had done all over the world. If you have a story or trip you would like to share about an upcoming mission experience please email me at lizzie.beth.holmes at gmail dot com.
Meet Samantha, a 21 year old student at
Tennessee Tech University 
majoring in Sociology with a concentration in Social Work. I met Samantha when she served as the team leader for a summer mission in the Philippines with Nehemiah Teams. She has a big heart for God, people, and missions and it is my pleasure to get to share with you about her next mission trip!
Where: India
.
When: March 9th-17th (Spring Break)



What They Will be Doing:
Facilitating youth conference for high school and college students in the surrounding areas [of Bahar, India]. Responsibilities will include
leading worship, sharing their testimonies, and Bible stories.
Interesting
to Note: Samantha has watched this project go from a prayer request of a worker in India to a reality. She said it was incredible to watch how the Lord put together the team of six. The team is made up of students from her BCM.
What We Need To Raise:
$2600 per team member and
hope to raise an additional $10,000 in hopes of being able to have the conference at one location.
This money will provide housing, food, Bible study materials, and busing the students to the location. (
If they are unable to raise this money, the team will travel to the villages that the students would have been bused in from and do mini conferences fro each village.
)
How YOU Can be a Part of it:
Financially: Buy a shirt!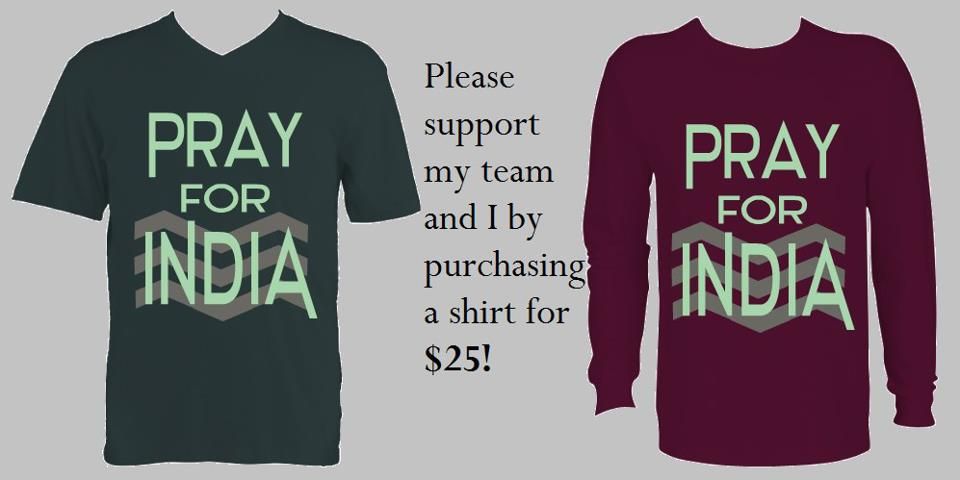 Commit to praying for Samantha and her team!
- Pray for their financial needs to be met as they speak at local churches and raise awareness for
their mission.
-And for unity for their team of 6. That the bond of unity will be begin now and that in the preparation stages that they will be one in Spirit, goal, and focus.
-Pray for the team members that they are sensitive to the Holy Spirit, ready with Gospel feet, and are bold in their witness.
-Ask God to begin working on the hearts in Bahar NOW so that they might be ready to hear the gospel truth and turn away from their sins and to God in repentance.
-Ask God to open up doors to these students that as they explain the purpose and passion for this trip that others are encouraged towards Christ.
-Pray for these six students who love the Lord that they will be to honor the Lord and bring glory to His name on their school campus, in traveling to India, and of course when they reach their destination as well.
-Pray that they will sell t-shirts!
-Anytime I pray for missions, I think it is important to praise God for the people willing to go! (Especially when they are young people!)
If you would like to buy a
T-shirt
or give directly to this mission trip please let me know by emailing me at lizzie.beth.holmes at gmail dot com and I will get the word to Samantha.